Saturday, July 19, 2008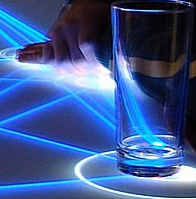 Looking for more information about multi-touch, gesture interaction, and surface computing?

Here are a couple of links:


Post highlighting Harry van der Veen, from Natural User Interface Europe AB, with a link to a video presentation of his overview of multi-touch technologies and gesture interactions. The post contains several related links, including presentations about interaction and new technogies from the recent Business to Buttons conference.
Post by "tony", on the Computer Science Canada blog, about the use of vvvv and the development of an intelligent tracking system. Although the post was written a while ago, it contains some good links. The CompSci.Ca/blog contains a wealth of information useful to students and people who work in computer science and related fields.

This got me thinking a bit. How will this sort of programming impact what is taught in high school and university computer courses?

Keeping Students Interested in Computer Science
is a must-read for computer science teachers and those of you who are concerned about the decline in the numbers of students pursuing further education in computer science and related fields.

I found the post on the CompSci.Ca blog. The author, Clayton Shier, is a high school student who has more than few words of wisdom about this topic.

The discussion generated by Clayton's post is worth the time exploring. I thought this comment to Clayton's post was especially interesting:

"My teacher though is a boring fellow too, and I'm not sure he's completely up on programming. He's not as bad as the stereotypical Computer Science teacher, but still not the best either. I was talking to him the other day, and I mentioned something about design patterns, and he said he didn't know what I was talking about."

These high school students are probably ready to learn about programming for multi-touch applications and other emerging technologies, and others with no previous programming experience might be enticed to stay in their courses if the curriculum was meaningful. We can't afford to lose them.

If high school computer science teachers aren't up-to-date with traditional programming methods, they are not likely to explore programming methods for emerging technologies. How does this bode for the future?!




Posted by

Lynn Marentette
at 5:26 AM